Spring 2017: Dress for the Occasion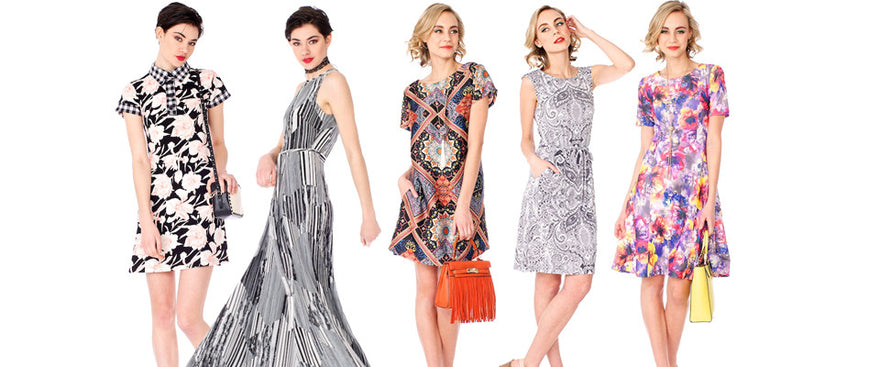 The spring season brings a chance to refresh your look with bouncy skirts, bared arms, and sprightly muticoloured prints. Welcome the warm weather and reinvigorate your wardrobe with our Jolie Flared Dress in a new watercolour printed ponte fabric. We have been itching to cut this fan favourite in a bright and cheery print. Its classical structure and princess seams soften with the fun, flared skirt in feminine florals. Accessorized with a blazer or an elegant pendant necklace, this dress is the perfect way to brighten up work ensembles for a fresh start at the office.  
Rizzo Polo Dress is another winning cut that has been brought back by popular demand! We loved this gingham check print we had in the studio, and wanted to add it as a contrast to a floral patterned dress - a true embodiment of our "Parisian Picnic" inspiration. Enter the Rizzo - a simple pullover style with a sharp little collar and plaquette, this dress is perfect for patio parties or a day out with your girlfriends.
Embracing a breezy and laid-back style, the Monterey Shirt Dress has an effortless, yet chic feel. Loose-fitting in a lightweight challis, causally belted with a tie sash, the shirt dress simultaneously brings a relaxed and sensual appeal. This design features inseam pockets as well as traditional cuffed sleeves and breast pockets. Worn over black leggings or dressed up with a pair of heeled sandals, the Monterey Dress is a vision for vacation day escapes.
Often in the design studio, the fabric seems to decide the piece. With the Portsmouth Dress we wanted to give two stunning prints full focus by cutting a long and sweeping elegant dress. Linear is a vertically oriented graphic in black and white stripes - an edgy look for a modern woman. On the other hand, our Dogwood print embraces a beloved floral trend with beautiful coral blossoms scattered across the deep navy backdrop. The Portsmouth Dress is made for spring weddings and gala evenings. In semi-sheer georgette with full length lining, the floaty A-line design of this maxi showcases the fabrics with a gorgeous, natural drape that falls to your ankles and dances around your legs as you walk.
On a more casual note, the Lulu Swing Dress is a fun-loving and light-hearted piece for the season. We were inspired by 60's swing dresses for this easy pullover. The relaxed, slouchy pockets and full A-line cut is both comfy and playful - with a dynamic drape and movement. The naturally loose fit and full micro mesh lining mean makes for easy comfort with no cling. Available in monochromatic black or an eye-catching kaleidoscope graphic, this sleeveless dress is great for hot, sunny afternoons or wild nights on the dance floor!
The Latitude Shift Dress is another spring classic - this time cut from two dynamically different prints. Orb offers a mod pattern in bold hues, offsetting navy and grey with a bright sunshine yellow. Dove Medallion brings out your softer side, with an art nouveau spread in perfect symmetry. Little cap sleeves and handy pockets complete this simple shift. Free and breezy on its own in a lightweight jersey fabric, the Latitude Dress is also perfect for layering with a cardy and leggings on those cooler April days.  
Finally, the Capri Medallion Dress is lively yet refined in a silken, Moroccan-inspired tableau. Wear it with tights and booties or a pair of black heels for the functions and showers of the season. We absolutely love the bold colours and intricacies of the patterned fabric, bringing bright energy to the simplistic tunic style. Each piece has been hand cut with care to capture the vivid medallion print with symmetrical exactitude. With hidden seam pockets and a light georgette lining, the looser fit lends a flattering drape to this elegantly eye-catching dress.    
---