Destination: Design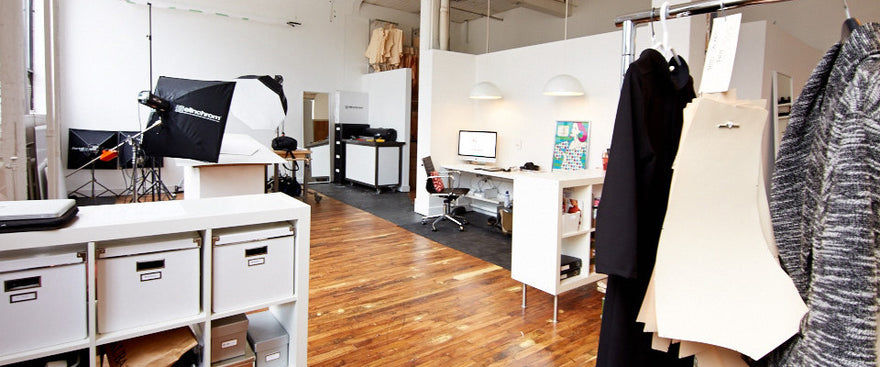 After the exciting frenzy of renovating our retail store and launching the Spring Collection, it's a blessing to take a breath in the new Bergstrom Originals design studio.
The decision to move our design studio out of the back of our retail store has meant many changes and fresh spaces for us to work in, and for you to shop in! First and foremost, we wanted to give a greater focus to your customer experience at the retail store. With spacious new change rooms and couches to lounge on, we're taking your shopping outing to a new level.
In giving you more space to spread out and shop, we've found our own arena for expansion as well. At the new design studio there is ample room for company growth and new reaches in creativity. From here we can also improve our online store, giving it the attention it deserves. With a professional photography studio set up and a seamless white backdrop, this is the new setting to photograph our products and model clothing collections for our seasonal lookbooks.      
And we haven't gone far! Take a wander down Queen East, past The Ralph Thornton Community Centre and the New Broadview Hotel, turn the corner before you cross the Riverside Bridge, and you'd find us in a big brick studio building. Tucked away between photographers, make-up artists and landscape designers is a familiar flash of pink: Bergstrom Originals Head Office.
Amid this creative community and still in our beloved Riverside home, we continue to create and build up Bergstrom Originals. We had to dig a little to unearth the hardwood floors of the studio, but once they were redone, we were ready to make the space ours from bottom to top. A canvas of white walls and high ceilings affords us vertical space to store handmade patterns and skeins of thread in a rainbow array. A bank of west-facing windows inspires us with a view of the bridge spanning the Don Valley River, and the CN Tower and Toronto's skyline on the horizon. Late in the evening, the sunset spills onto Christina's cutting table and over her sewing machines.
In here, patterns are drafted and dress samples are put together from hand-picked, high-quality fabrics. These samples and sized patterns, along with long rolls of material, are sent to cutters and sewers right here in Toronto, to go through the careful, final stages of creating our #madeinCanada clothing. The finished product is then delivered down the road -  right to Bergstrom Originals' storefront!
As Bergstrom Originals keeps growing and expanding, we are excited to share our progress with you - our readers, our customers - every step of the way. From hanging out at the retail store to learning about the creation process of the clothing - thank you for being a part of our community!
---