Don't walk, Fly!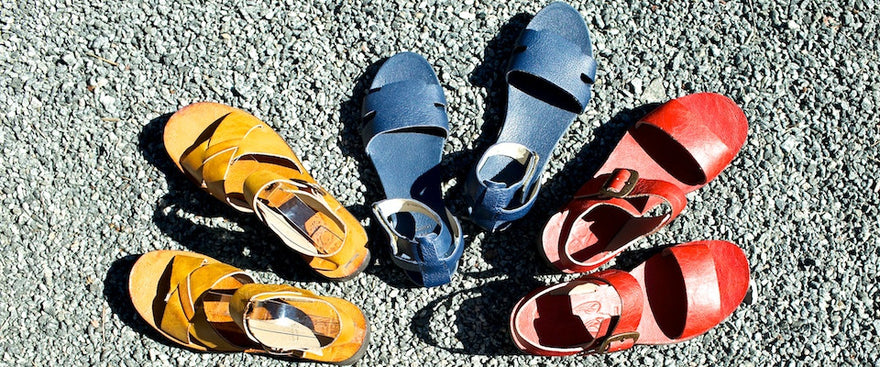 Living up to their mantra of "Always progressive, never conventional," Fly London's latest collection is a kaleidoscopic jumble of quirky uppers, punchy platforms, colourful leathers and iconic Fly-printed fabric.
It is hard to narrow down a favourite in the fantastic line up for Spring-Summer 2016! But here are three chic looks that have got us talking this season -
1. Sport Couture
With Chanel and Dior showcasing sneakers on the runway, we get to see a sportier side of haute couture. Fly London continued in this vein with the brilliant white trainer soles on the Wigg and Wege. Clean configurations in black-and-white contrast streamline these sandals with an athletic edge. The cork/rubber composite sole makes an incredibly lightweight platform, adding a couple inches of height and confidence to your stride. The same theme sees the Booz sandals in a softer black on black: a serrated rubber sole topped with a suede wrapped platform is sport meets style. Runway ready, these designs can get you from rush hour to a lunch date in fashion that feels good on your feet!
2. Comfort Chic
Talk about Fly London, and we simply can't go without mentioning the time-honoured Yellow sole. This sturdy, solid sole has a 1" platform and a gentle 2" rise with rubber grip and a soft fabric insole. It's Fly's most comfortable footbed, providing a great base to an impressive collection of uppers this season.
 Take the Yila, a multi-toned T-strap, or the Yesk in sleek asymmetry. Stitched leather straps in a neutral palette make these shoes a match for any outfit. Or try on the cute crossover Ynes, a white and grey design set apart by a pop of petrol green piping around the sole. These three pairs show off stately, sexy and funky looks atop the same Yellow sole - so suit your style with a flattering lift atop this classic wedge heel.
3. Summery Sandals 
Summertime comes and finally! It's the chance to shed those boots and show off your pedicure. And this summer we've got options, from classic cross-strap sandals to dainty little flats.
Looking for something sweet and simple? Pair the Fuxa with full skirts and summer dresses, in an elegant black or a bold royal blue. Need something down-to-earth for the everyday? The Brou and Bian sandals feature wide, raw-edged leather straps and robust buckles at the ankle supports. Building on the traditional sandal straps, the Yost and Yera sandals pair modest uppers with chunky, scalloped rubber soles, adding a touch of height and a splash of colour in their vibrant red and mustard yellow hues.
Fly London works with the basics to keep these designs lightweight and breezy. Adjustable straps offer simplicity and support. Smooth leather insoles stay cool and comfortable against your bare feet. And an array of colours and styles refuse to compromise on creativity.     
Be sure to join us for Fly Day at Bergstrom Originals - coming up on Saturday, April 30th. This full day event at our retail store is a celebration of Fly London's amazing designs - with reps on site, a huge collection of shoes to try on, and a chance to win a free pair of Flys! See you on Saturday!
---